Discover more from SCALE 89
High Growth Stocks and Investing Ideas
Over 1,000 subscribers
Peloton (PTON) - My Investing Ideas
Consumers are rushing to buy new products from Peloton
The at home fitness market was big business before Covid-19, but the stay at home orders and social distancing policies are causing more people to skip the gym. They are investing in their home gym and buying more yoga mats, weights, and exercise balls. They are also buying more Pelotons.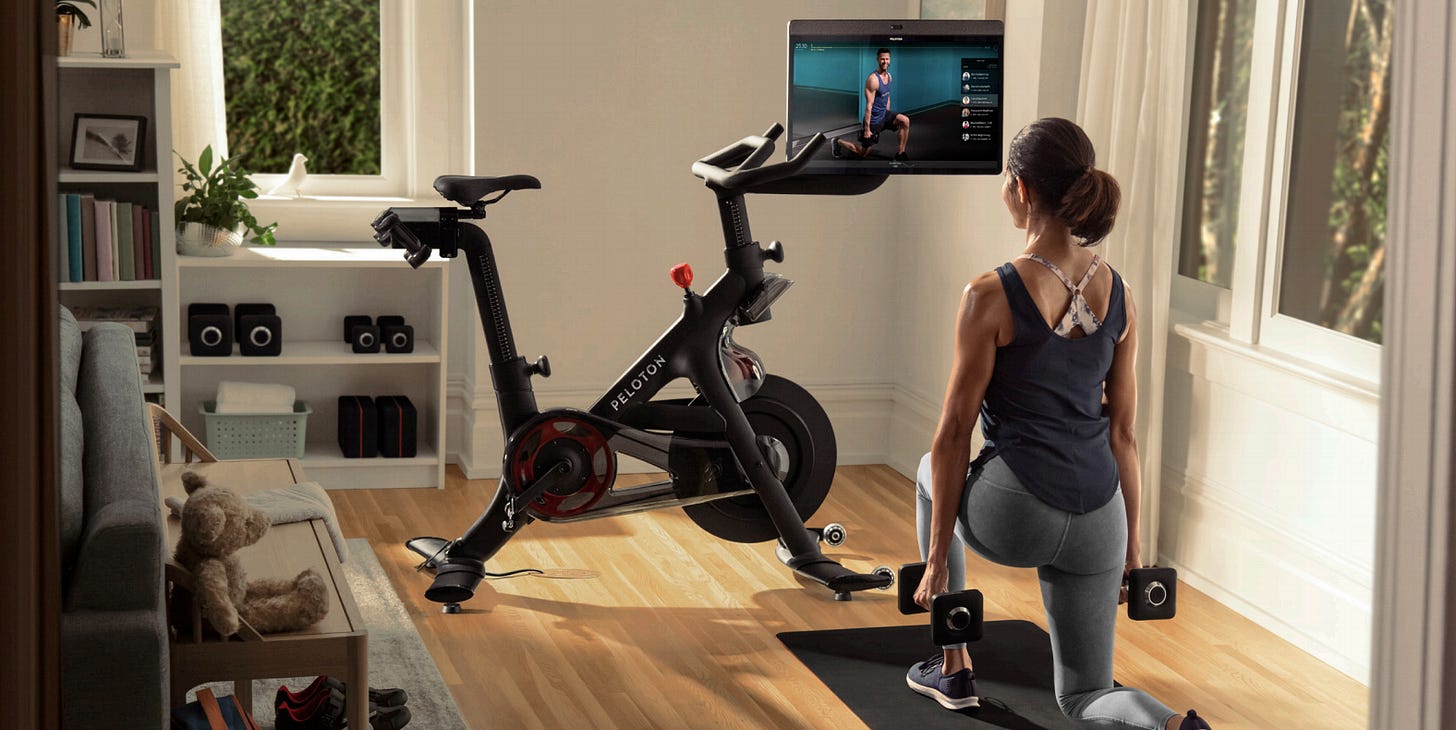 Image Source: Peloton Investor Relations
The global market for at home fitness equipment is growing and estimated to be around $12 billion for 2019. Peloton is now taking a big chunk of the market as consumers rush to purchase one of the hottest new trends — an at home fitness bike with a large TV monitor built-in.
This article is available to my readers for free. Please consider subscribing below:
Peloton
Peloton started on Kickstarter back in 2013 and has been gaining popularity since then with double and triple digit growth. The company is based in New York and they have around 2,000 employees. Peloton is known for their high-end fitness bike that will set you back around $2,300. They also make a high-end treadmill and now a lower cost bike around $1,800. Customers also pay a $40 membership fee to access the online classes from global fitness superstars and Instagram fitness celebrities. They also have a newer $10 a month app option for fitness classes. The high end bike is probably out of reach for 60% of consumers but the demand is fierce and a popular Peloton bike is on backorder now for 8–12 weeks. You might be wondering who is spending over $2,000 on a bike during a pandemic but many Americans are finding a way.
Peloton Revenue Growth (Fiscal Year)
2016: $60 million

2017: $218 million

2018: $435 million

2019: $915 million

2020: $1.8 billion
Peloton is experiencing extreme revenue growth from 2016 to 2020 making it one of the fastest growing companies in the world. Growing over 100% year over year is very rare for any company. Peloton has grown from $60 million to $1.8 billion in just 4 years. This growth is unreal and investors must pay attention.
High End, Niche Product?
For years, I didn't know anyone that had a Peloton. I remember seeing the Peloton store a couple times at the mall. It sure looked nice but it came with a hefty price tag, certainly something the average person could not afford. But the company has changed since their early days — they are no longer just an expensive fitness bike, they are a huge consumer brand launching new things every year.
Peloton now has a $10 a month app with top-rated fitness classes from their best instructors. This app subscription is great for those that don't want to drop $2,000 on the popular and expensive bike. They also have a monthly fee payment plan making the cost much more reasonable for the high end bike. This monthly fee ranges from $49 to $64 per month depending on the bike model. Peloton is no longer niche or just high end — almost anyone can afford one of their products or the $10 app subscription now.
Stay At Home Orders
When the stay at home orders started, I remember jumping on Amazon to buy at home fitness products for myself. The vast majority of the at home fitness products had sold out; I even checked on Walmart.com (A site I never use). The fitness items left where on serious backorder for weeks or months. I was not alone, millions of people were rushing to build up an at home gym — at least a few weights or something. During this time, Peloton launched their new fitness app and consumers were rushing to snag a new Peloton bike. They quickly went on backorder for 8–12 weeks in many US cities. Demand has been intense for Peloton and other at home fitness products since the stay at home orders went into effect.
3.1 Million Members!
Peloton has a loyal and passionate base of users that reaches over 3 million people now. This is across both the hardware options and the $10 subscription app. That is 3 million people spending $10–100 each month on the Peloton subscription — recurring revenue that would make any company jealous. This is driving the extreme revenue growth with earnings estimates increasing again and again. For the fiscal year of 2021, they are estimating $3.50 billion to $3.65 billion total revenue per their investor relations page.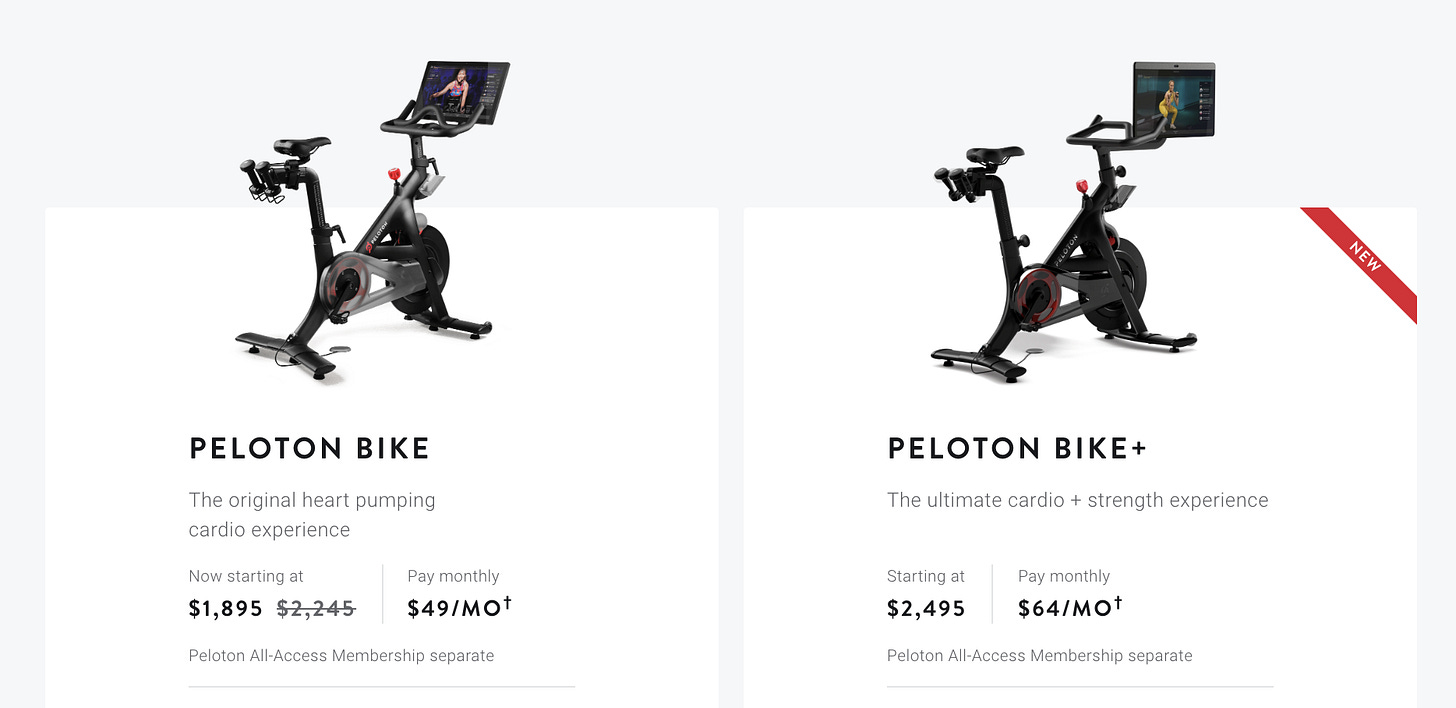 Image source: Peloton website
Peloton Stock (PTON)
Back in May of this year, I wrote my first article about Peloton. At the time of the article (May 28th), I was an investor in Peloton stock and the share price was $42 per share. Since then it was continued to rise, hitting an all time high of $98.61. It is now currently around $85 a share. In the next 6 months, I personally see the stock going to $120-$130 per share. I still own shares and call options for 2021.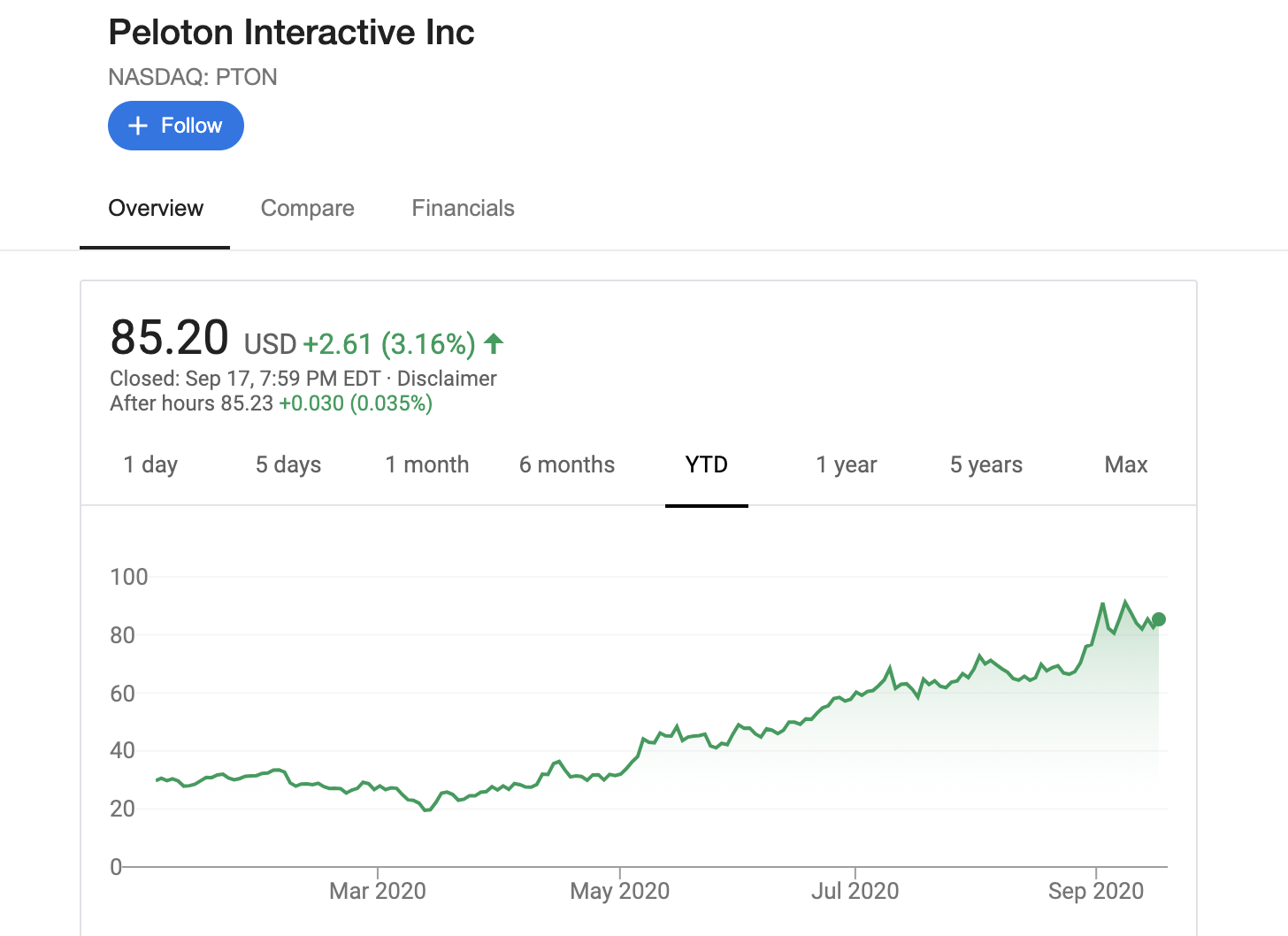 Image Source: Google Finance
Just A Fad?
I often get into debates with the Twitter community about Peloton. Some folks think it is "just a fad" and people will return to gyms shortly. I just don't see it that way. Gyms across the US are closing and filing for bankruptcy including several in Washington, DC. Many are operating at 30–40% of pre-Covid levels. and barely surviving. People that shift to at-home fitness and invest money in products like Peloton will use them for years. Many will continue to pay the $40 subscription fee per month to Peloton several years. According to Peloton, their churn rate is only 0.52%. Peloton is not just a fad, it is a new powerhouse consumer brand that will please investors for years to come.
---
About Me
James Carter is a Tech insider, investor, and writer based in Washington, DC. He has worked in early stage, high growth, and large tech companies. In his free time he travels and spends time in North Carolina. You can find him on Twitter: @ James_Carter89
SCALE 89
SCALE 89 is my new paid newsletter on Substack for $10 a month where I cover investing, Tech, and my high growth stock picks. Thank you for your support!
Disclosure: I own shares of Peloton stock and I also have call options for 2021. This article is not financial advice.